Diabetic Gourmet Cookbook
More Than 200 Healthy Recipes from Homestyle Favorites to Restaurant Classics
Designed to meet the needs of people living with diabetes, but perfect for everyone who appreciates great food.
This book teaches diabetic-friendly cooking that you can do.
You'll Learn:
How to effectively and safely adhere to your meal plan or diet while enjoying delicious food.
How to stock a diabetic-friendly pantry, refrigerator and freezer so you're always prepared to make wonderful, diabetic-friendly meals.
About meal planning, exchanges, healthy cooking techniques, food substitutes and alternatives to things you shouldn't be eating.
How to make healthy appetizers, dinners, side dishes, spice blends, sauces, desserts and more.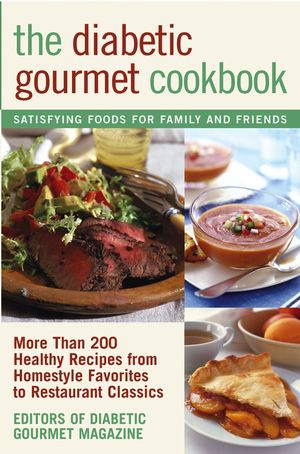 A great book with lots of good food. Very healthy, and good for you even if your not diabetic!"

Reader Review

Amazon.com

When I learned I was diabetic type 2, I cried when I thought I couldn't eat anything that tasted good. This book changed that. When I cook for my family or guests, nobody can tell their meals are diabetic. I love the variety this book has."

Reader Review

Amazon.com

Very Nice Book, Good Value. There are many recipes to choose from and they are easy to follow. I have made several and they turned out great and I am not the most talented cook in the world LOL!

Reader Review

Amazon.com

Of the main dishes we tried, I found the servings to be quite filling and the recipes were easy enough to make. I also found the sections about diabetes to be very helpful and easy to understand. Hopefully I'll be able to avoid getting diabetes like my mom by following the advice of cookbooks like this. Definitely gets a thumbs up from us."

Reader Review

Amazon.com

I highly suggest that if you are a diabetic, that you buy this book. You won't regret it. And even if you aren't a diabetic, the food is delicious and healthy!"

Reader Review

Amazon.com